Services From Bowman Turfgrass
Bowman Turfgrass Professionals offer a full range of services and encourage you to contact us to learn more or request an estimate.  We look forward to hearing from you and learning how we can help you with your lawn care needs.
We use only the highest quality fertilizers. Many of the fertilizers we use are the same brands that are used on golf courses. Choosing the right fertilizer is very crucial part of creating lawn care program that will be successful to the overall health of your lawn. Using slow release fertilizers are a common practice in our programs. Also using these products allows the turf to thrive and survive between applications, even in the harshest environmental conditions Michigan has to offer. We adjust the application rates based on the turfs needs and what the environmental conditions will allow us to do safely.
We will never make an application just because we showed up.
If it gets too hot or if it is too windy we will come back when the conditions are favorable. If we are experiencing a drought and it is time for your next application (and you do not have a sprinkler system), we will reschedule. Just because your application/treatment is scheduled does not mean that it should be done that day.  We do our best to take the weather and conditions into consideration and will contact you to keep you informed.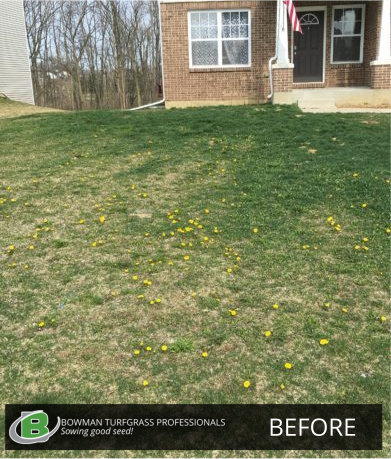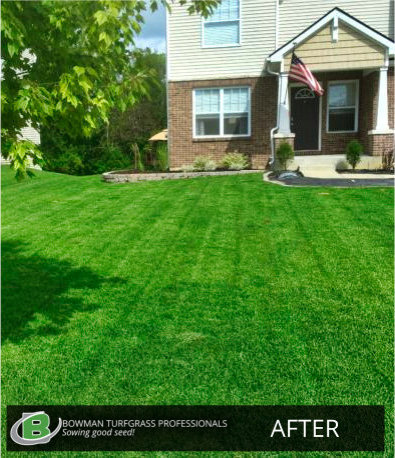 Before_Lawn_Treatment-Bowman_Turfgrass-Brighton
After_Lawn_Treatment-Bowman_Turfgrass-Brighton
Yard with No Sprinklers
We have a 4 step program that is designed for a lawn without a sprinkler system.
There is a 6 step program that is offered and designed for lawn with a sprinkler system, which requires more input of fertilizer.
Both programs have the Crabgrass and Grub Control applications designed into the program at a discounted rate. We try to avoid and recommend not deviating from either of these programs. Both of these programs allows us to take ownership of your lawn and greatly reduces the chance of an outbreak Grubs, Broadleaf Weeds, and Crabgrass. Correcting these issues if they do occur ends up being very costly and we have found that staying dedicated to one of these programs is the best way to ward off costly fixes. Being on one of our programs allows us to be on your property more frequently, hence greatly reducing weed population and increasing overall turfgrass quality, health, and color.
What separates us from the competition is that we tailor each tank mixture for what weeds are present at the time of the application. We use many different herbicides, sometimes mixing some together to yield the best results. Our many years of experience gives us the knowledge to understand how each type of chemical reacts with one another.
This is not a practice normally followed by the big box companies or even some of your family run business, because it is very difficult to create these mixtures in a manner that is safe and will not harm your lawn.
There are many other factors that come in to play with creating an effective and safe herbicide program. Our program is proven to be extremely effective, even in a situation where the weeds are out-competing the turf.
We are always prepared to treat any weeds that are visible and present at the time of the application. If you think your lawn can't be saved, please give us a call! We have rescued many lawns that were neglected or just in overall poor health in as little as 2 applications!
Bowman Turfgrass Professionals takes pride in offering professional lawn care services the include lawn mowing. We will implement the right program for your lawns needs. Our goal is to make sure you are excited to pull into your driveway at the end of the day and see a beautiful and well manicured lawn.
We offer a wide variety of professional services! It's not about doing it all at …it's about doing it right and that is what we pride ourselves in. Our motto is, "If it isn't right, it's wrong". We will make sure you are 110% satisfied with any service we offer.